Features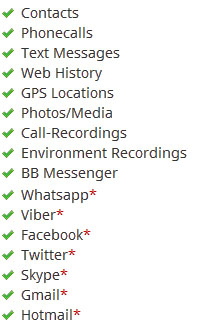 Spy Mobile Phone Softwares
WELCOME TO SPY MOBILE PHONE SOFTWARES...


Spy Mobile Software The next upcoming application of smart phone is spy mobile software. If you want to identify whether your child is misusing mobile then this spy software is apt for you. If you want to supervise recording of your child mobile data you just need to install the small program on to your accustomed smart phone.

With the help of internet competence of your smart phone, all the recorded actions, logs and GPS locations are immediately uploaded to your Mobile Spy account. Whenever you want to monitor the results, then you just need to login to your secure account with the help of any mobile web browser or computer. For the sake of easy browsing, logs in the spy software are displayed in the form of group. Even though if your child or any other persons make an effort to delete their usage record then this Mobile spy helps to obtain all the deleted data also. This Spy software works secretly and independently.