Features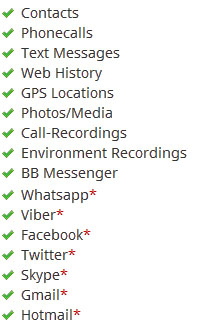 Products
SPY MOBILE PHONE SOFTWARE
Spy Mobile Software The next upcoming application of smart phone is spy mobile software. If you want to identify whether your child is misusing mobile then this spy software is apt for you. If you want to supervise recording of your child mobile data you just need to install the small program on to your accustomed smart phone.

ANTI SPY MOBILE PHONE SOFTWARE
Is Anyone Spying on the Mobile Phone ?
Nowadays, those who have entry to your mobile phone can simply use a spy Mobile software and monitor your calls, SMS messages, and also your GPS locations... Anti Spy Mobile Software will Remove It..Anti Spy Mobile Software is a antispyware scanner that detects and removes spyware applications on the Mobilephone.