Features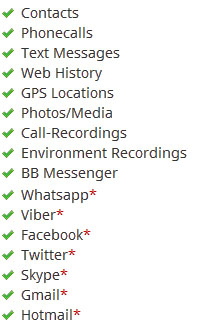 Features
Features of Spy Software


Its Automatically record all incoming Calls and outgoing Calls on your Spy Installed Mobile phone. You can also view the All Incoming Call Logs And Outgoing Call Logs. Spy on Messages Read all incoming messages and Sent Messages of your Spy Software Installed Mobile phone.

View All Contacts Of address book And scheduler and calendar Logs. View Present GPS location and traveld routemap of your Spy Softwares Installed mobile phone can be view on a map. and also view their Gps location s history.

View all Saved videos, photos and audio files In Spy Software Installed Mobile Phone.View All The websites visits That Mobile user and also Get all Bookmarks of Mobile User.

View All Messangers Acitivities like Facebook Whatsapp Viber Twitter Gmail